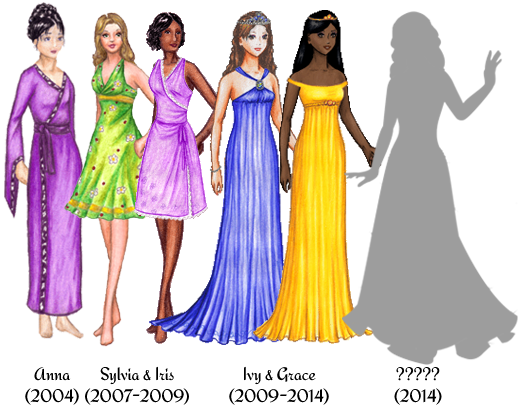 Within the next few weeks, I'll be unveiling a new doll and a new series of digitally colored outfits for her. I've put some teaser pictures up on my Facebook fan page and Twitter. Curious to know just how many sparkles I can load on one skirt? Better check them out. Also, I'm running a special poll on my Facebook fan page this week. Help me decide what the new doll's first outfit will be!
Looking at my archives, I realized I've been doing paperdoll blogging for about ten years, on and off. That's not even counting the paperdoll page that I had in high school! Some of you may have been following me for the whole decade, but for those of you who haven't, I thought it would be fun to look back over the highlights and introduce you to some dresses and dolls you may have missed.
2004: The age of Anna
My first paperdoll blog had one doll, named Anna, and about fifty outfits. I started paperdoll blogging in the summer of 2004, a year after I was married and graduated from college. I was working as a temp and getting back into drawing with colored pencils, after a excursion into the world of Flash and vector drawing. My paperdoll dresses, originally just part of a more conventional blog, barely made it through a site move to WordPress, so now you can't link directly to an entry and the comments are gone forever. Funny, in my memory this blog lasted longer, but it appears that I only drew for Anna for half a year.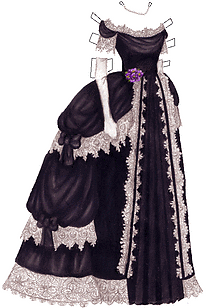 The first dress I did for this new doll is also one of my favorite dresses I've ever done, with the lavish lace and the elegant black, and it was very popular. It was based off of a dress description in Anna Karenina, which is, of course, where Anna took her name from.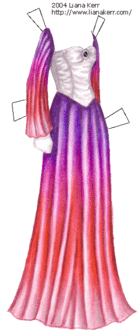 I also particularly like the dress robes I drew, with the gradient effect and the bright highlights. I don't actually know how I got that to work. I tried reproducing it, years later, and I couldn't get it quite right.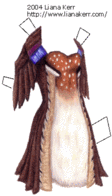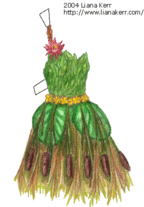 I drew this wood duck fairy and wetland fairy while temping at Ducks Unlimited. My days as a temp afforded more scope for imagination than you might think.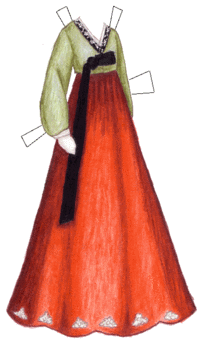 This hanbok, as well, was very popular, and if I remember right it was because the page was highly ranked by Google at the time, so it was one of the first things you'd see on a Google Image Search. The silhouette isn't quite right, but I do like the collar.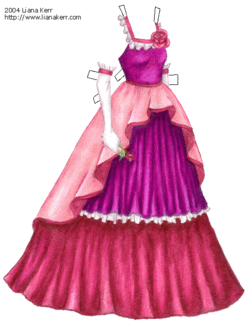 The dress I think was the most clever was the "Roses 'N Ruffles" homage to 80s Barbie fashion. One of my favorite Barbie dolls as a kid was Jewel Secrets Barbie, which has a skirt that becomes a little drawstring bag, a ruffled blue stole which can become the ruffle on a skirt hem, a peplum or a shoulder ruffle, and a sparkly silver dress that acted as the base of the outfit. That's the sort of thing I was thinking of, and I can see several ways to rearrange the pieces to make new dresses. Can you see them too?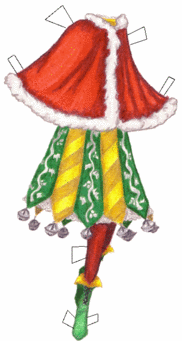 I reposted Aelinora the elvish princess in 2008, but I actually drew her in 2004 for this blog, and for some reason she doesn't show up in the list of blog entries with Anna and her dresses. Even with just a holly-trimmed slip and two dresses, she's one of my favorites, and I like the idea behind her little story. I believe my intention was to make Christmas cards out of her to send to family and friends, but I think that when I looked into it it was more expensive than I had expected.


2007 – 2009: Sylvia and Iris
I didn't revisit paperdolls until 2007, when I came up with Sylvia, and then Iris. That was right around the time I graduated with my master's degree, and I ended up getting a part-time job grading essays written for the TOEFL. That left me with a nice chunk of time to draw and study Japanese, and for a fairly long time, inspired by the example of Ze Frank and his video series "the show," I tried to draw a new dress every day. (Here's my thought process on that. I wrote it in 2008 and I still need to remember what I wrote to myself.) I hadn't looked at these dolls and their dresses for a long time, and I had forgotten how much fun I had with them! Since I started drawing for Grace and Ivy, I've thought of them as the "good" dolls and Sylvia and Iris as the "old" dolls. But Sylvia and Iris are really killing it in some of these outfits.


Rachel's black suit from Blade Runner got me posted on Metafilter, which made me happy because I love Metafilter and read it daily. I responded with a Metafilter-themed mini dress, which prompted a Metatalk thread. It's only funny if you are familiar with Metafilter's culture, but I really liked this comment about other possible Metafilter-themed outfits.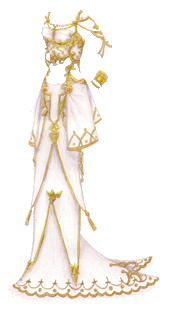 Princess Ashe's wedding dress from Final Fantasy XII was also hugely popular, especially thanks to Google Image Search. Even now, if you search for her wedding dress it will be one of the first few results. I spent a lot of time trying to get the details right, and I like how it turned out. Incidentally, these days I try to do fewer reproductions of existing designs, because of worries about copyright if I try to do anything commercial with my drawings. I'm more likely to do something like an alternative costume, or something inspired by some aspect of whatever media I'm into.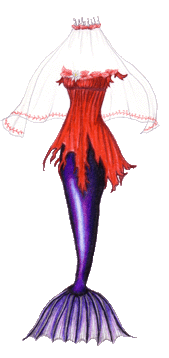 Because I loved drawing mermaids and my readers loved seeing mermaids, I instituted Mermaid Monday, which is just what it sounds like. (Well, it does include dresses with a marine theme, too.) These are just a selection of what I came up with, to say nothing of the little stories that I posted along with them. For my new page, I want to have one post a week to start with (given that I am still primary caretaker to a highly energetic toddler and have two other odd jobs), but maybe someday I can increase my mermaid output…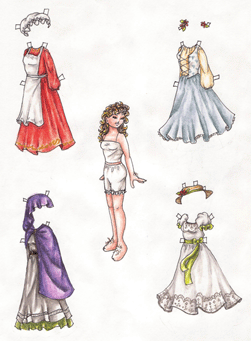 A rare stand-alone doll and set of outfits that I created as a present for my mom. We would certainly both be hobbits, if we lived in Middle-earth, although we would admire the elves' dresses.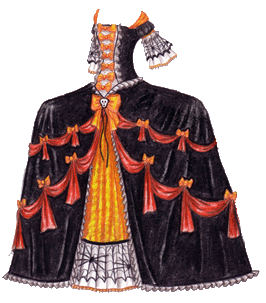 Since Halloween is a holiday uniquely suited for paperdolling, I did some fantastic Halloween costumes for Sylvia and Iris. Here's one of my favorites, from one amazing October where I got something like 20 dresses posted in 31 days.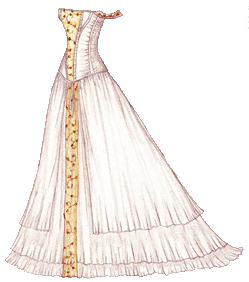 I drew this gown from Taylor Swift's 'Love Story' video because a friend was working on recreating it, and it brought me a whole bunch of new fans of pretty dresses. It's probably safe to say it's one of the single most popular drawings I've done.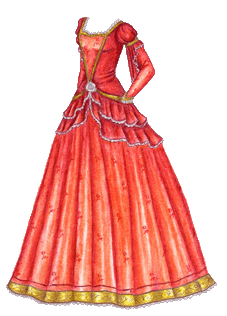 My poor twelve dancing princesses! I still have the sketches of the original gowns somewhere. I never did finish the story. But the dresses I did for it are among some of the fanciest princess gowns I've made, and are quite worth looking at on their own. This is the first one.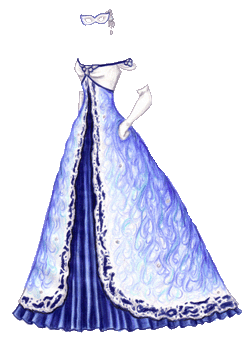 I just love how this blue gown turned out. It was drawn by request. I should note, I don't take requests any more, because I've disappointed people by saying I'll draw something and never doing it, and I hate that feeling. But this one came at a time when I was in a paperdoll slump, and it was just intriguing enough that I wanted to take a shot at it.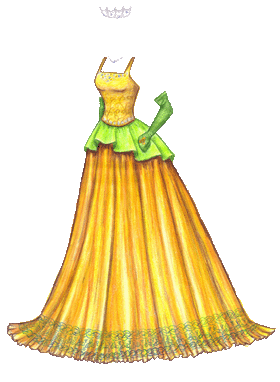 Ah, the Wiki dress! (I did two, but this one turned out better.) We started a small wiki, and let people edit a dress description. After a week, this is how it turned out. I always meant to draw a few other dress descriptions that were produced by the experiment. Someone (not naming names, *cough*Brian*cough*) added in dinosaurs, and I would like to see how that works in a dress, myself.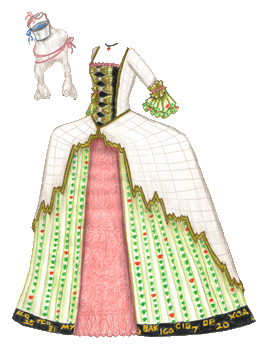 I must say, I thought this recession-themed court gown (with a pouf a la bailout) was pretty clever. It's got the pink slip! The houses and hotels! The falling stock ticker as a design element!


2009 – 2012 (Grace and Ivy)
I always end up feeling uncomfortable with the flaws in the paperdolls themselves, and so I switch to a new set. In 2009, this impulse produced Grace and Ivy, and they've served me very well. I've drawn around 200 outfits for them.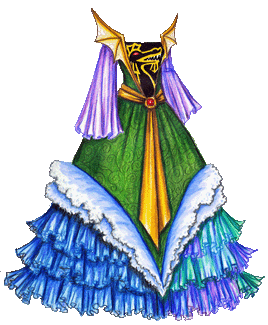 I meant to do a series of dresses inspired by the Dawn Treader, and I only ever finished the first one, but it's likely I'll do more in the future. (Eventually.) The ruffles on the hem are my favorite part about it.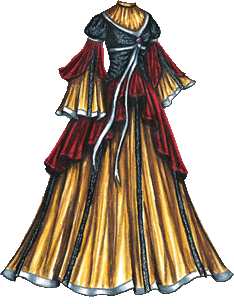 One October, I did a bloody, blue and white dress belonging to a ghost who was called "The Good Queen." This is what her dress looked like before she became a ghost. I have a long memory for my paperdollverse.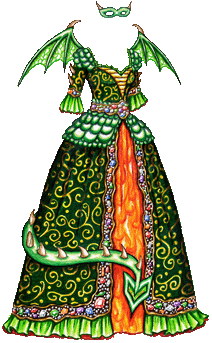 This dragon-themed masquerade gown is probably the most glorious dress I've ever drawn. It coincided with the most traffic the site ever got (about 1,500 people per day) and I'll always think of it as my high-water mark for the joechip-era paperdoll blog. It's also when I first remember my hand hurting after too much drawing, although at the time it took a long time for the pain to start.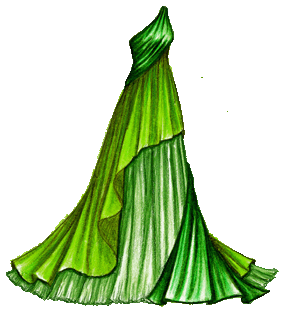 This layered green gown is something that I did quickly and didn't put much thought into, and yet it was this very gown that became a hit on Polyvore, a site that lets you create digital collages. It's a good base to add accessories to, I think, because it's dramatic yet simple.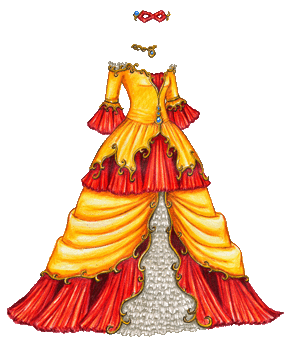 The Cursed Sisters: a Halloween story and dress set that I actually finished! I wrote the story first, to make sure that it wouldn't end up a disappointment like my Twelve Dancing Princesses story. If my dragon dress was my best post, I've always thought this was my best series of posts.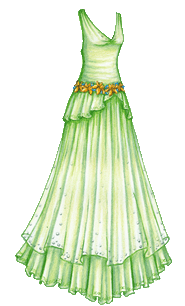 I did a series of Lord of the Rings-themed outfits, and this was my interpretation of Goldberry's dress. Green is my favorite color, and everything about this dress just makes me happy. The transparency! The sparkles! It's definitely a dress that I love.


Thank you for going on this little trip through a decade of dolls with me. I promise that the best days for this blog are ahead of me! So please like my Facebook fan page, follow me on Twitter or sign up for my mailing list (top right-hand side of the page) so you can keep track of all the beautiful things I make in the next ten years!
Check back next Friday for a dress with colors chosen by the winner of my last contest! Also, I'm running a special poll on my Facebook fan page, so please like it and give me your opinion on what to draw next!