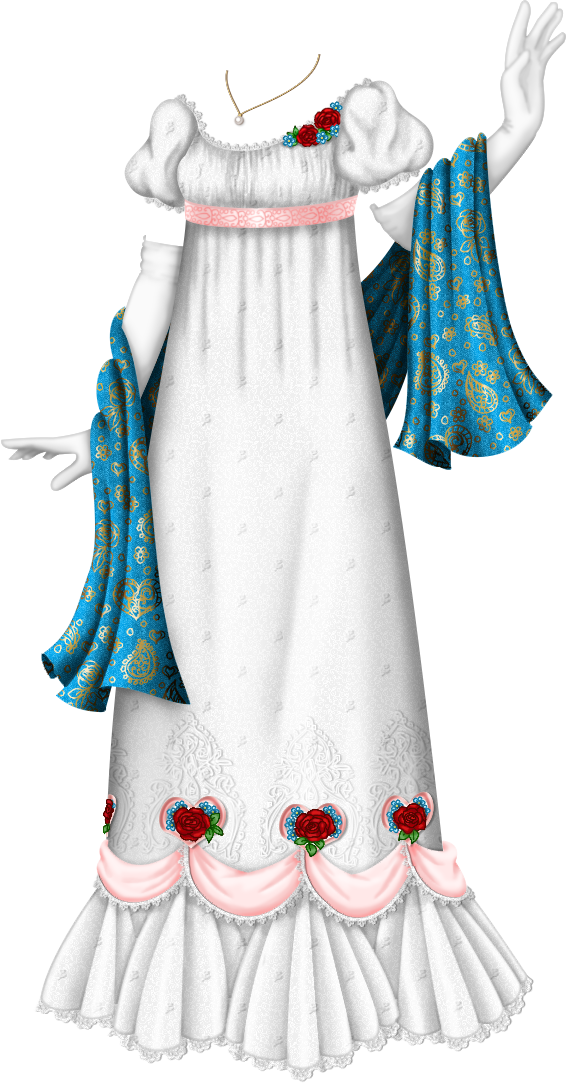 Happy Valentine's Day! Here is my gift to all my beloved readers, whether you've just found my page recently or have been following me for a while. I've been drawing on and off for a long time now, but it's been off a lot more than it's been on. That means I have very patient fans, so I wanted to do something extra pretty for all of you!
This gown is not based on any particular Regency style, so it is more of a costume than a historically accurate dress. I also tried some new coloring tricks with this one. I use Photoshop's paths tool to make the lines so nice and clean, but it doesn't really lend itself to details, so the roses and a lot of other details were drawn in Procreate, my iPad drawing app.
The medieval dress I posted last week was the result of January's contest — want to help decide what the next theme will be, and maybe get the chance to pick out the coloring yourself? I'm currently running February's poll over Twitter! I've tweeted three categories to choose from, so if you're using Twitter just follow me and tweet your favorite category. (Don't forget to include my username, @LianaPaperDolls, so I can see it.) I'll draw a gown from the winning category and start the contest over Twitter next week!
Come back next week for a outfit based on one of the most popular dramas on Japanese TV! As always, you can follow me on Facebook, Twitter and Pinterest for update notifications, peeks into how I work, thoughts about designing paper dolls and pretty pictures of jewelry. If you enjoy my work, I'd also appreciate your support through Patreon. If I can rustle up a few more patrons, I'll be able to post a bonus dress!