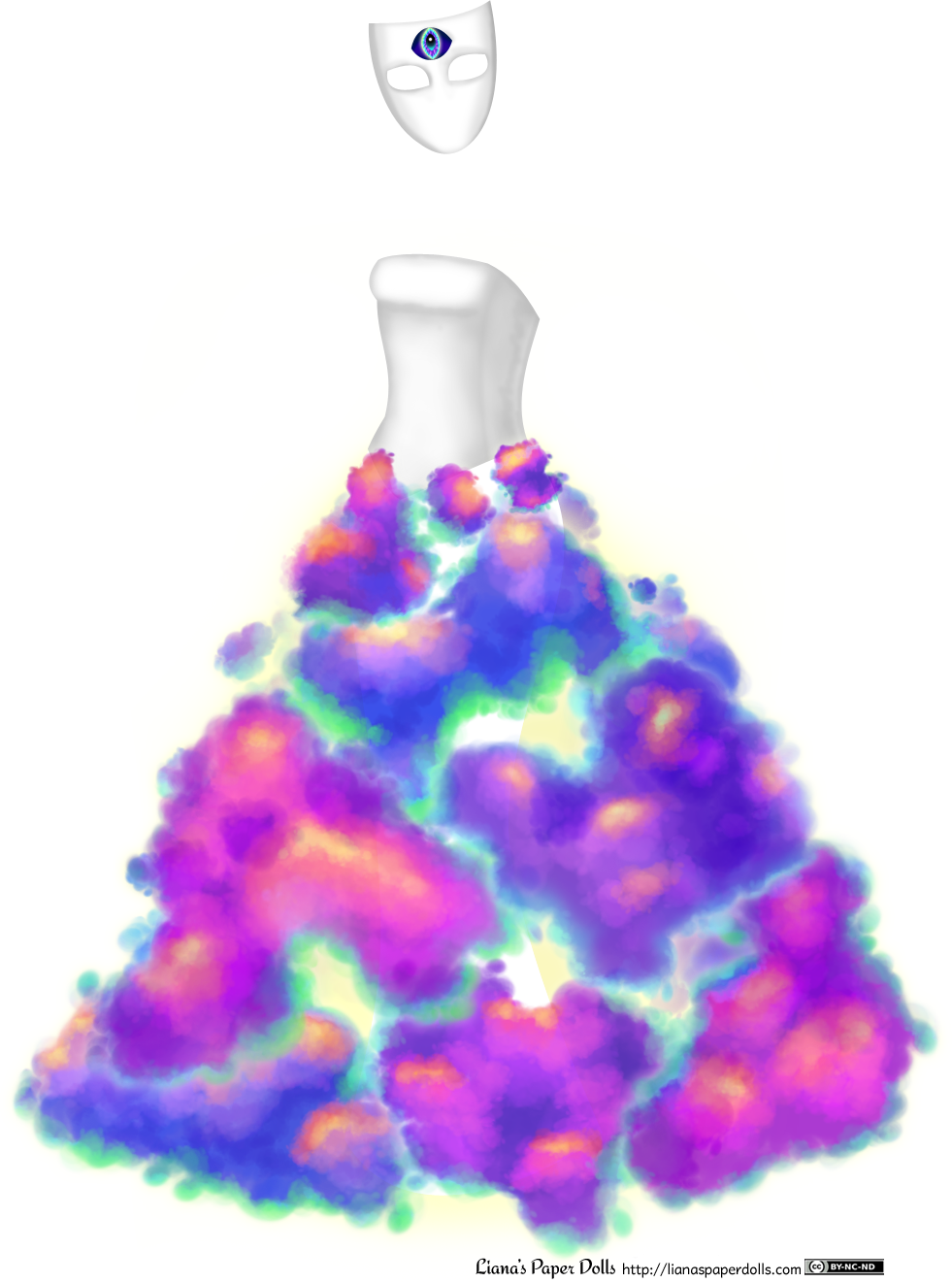 A newcomer's arrival always causes excitement in a gathering populated by archetypes that may be hundreds, even thousands of years old. Those that have endured over the years can't help but judge the newer ones whose sudden popularity or unexpected flexibility brings them to the ball. They may retain their appeal and get used in new ways in new stories, turning into a true archetype, something greater than their original form… or they'll wind up with the sorry lot that hangs out on the fringes of the party. Those poor creatures sneak strawberries from the snack table as if they don't deserve to eat good things and trade stories about whatever triumph first won them an invitation to the party — while stringently avoiding any mention of the present day. If any of the organizers should notice that they haven't made that jump from potential archetype to true archetype, and probably won't, there may not be another invitation the next year…
The Glow Cloud is new; furthermore, she's a creation popularized by the Internet, not by ballads, storybooks or rumors. So the others regard her with a certain amount of skepticism until she drifts by, and…
All hail the mighty Glow Cloud.
All hail.
The old-timers discuss the Glow Cloud in whispers, several minutes after she passes.
"Rather specialized, don't you think?" Dragon says, her expression thoughtful.
"Do you really see an archetype like that getting popular in *other* stories?" asks Fairy disdainfully.
"It's basically just a cloud," agrees Kitsune.
"There's some precursors, you know. Like the Airborne Toxic Event. And Lakitu, that almost counts," Robot says. (Robot has more sympathy for newcomers than the other, older archetypes.)
"True," says Dragon. "Well, we'll see if there's staying power there."
"We'll see," echoes Fairy.
The dismissive words are intended to mask how shaken they are.
For those of you who may not be familiar with the Glow Cloud, it's from a popular podcast called Welcome to Night Vale, which is a story built around fictional news from a town where weird things are a feature of daily life. I used this cloud tutorial and brush, in case anyone else wants to try some digital clouds! Next week we'll be meeting Kitsune, a popular Japanese fox spirit archetype and the winner of my poll. In the meantime, you can download combined color and black and white PDFs of all of my 2014 dolls and outfits for free! Also follow me on Facebook, Twitter or Pinterest for sneak previews, paperdoll thoughts and eye-centric teaser pictures. If you enjoy my work, I'd also appreciate your support through Patreon.