About this Page
Welcome to Liana's Paper Dolls! I draw clothes from my life, what I'm reading, or what I'm currently interested in, and I try to post one new outfit each week. I hope you enjoy my work!
About Liana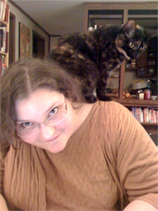 My name is Liana Kerr, and I'm 32 years old and live in Tacoma, Washington. I love drawing paperdolls, and also reading, walking, cooking, studying Japanese, playing video games and watching movies. I'm married to Brian Kerr and we have two cute cats. (That one on my shoulder is Radar.) We also have a toddler named Milo.
If you want to know more about me, there's always my twitter feed.