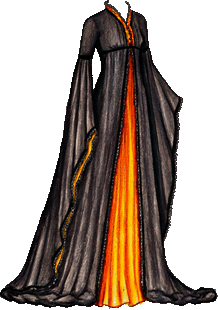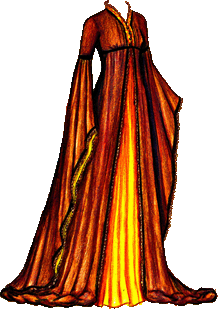 Click for larger version (PNG): black, red; click for PDF version: black, red. Click here for the list of dolls.
I don't know if the other paperdoll bloggers would agree, but to me, Halloween is the supreme paperdoll holiday, so much that the thought of a month of costumes can pull me out of the deepest slump. In my humdrum real life I don't like to be scared, and I don't usually even bother slapping together a costume, but for Sylvia, Grace and company I've done some of my best work: poison-green masquerade gowns, cute ladybugs, scarecrows with real, entirely fearless crows. So let us celebrate this month together: we'll enjoy closets full of imaginary costumes and, I hope, a couple of good stories to go along with them. I shall be the High Priestess of Paperdoll Halloween, and sacrifice dozens of Prismacolors to the pencil sharpener! And here is what I might like to wear for such a job, had I but fabric enough and time.
I myself may be a capricious and unstable sort of high priestess, but the patience of the multitudes touches my heart, so I offer a psychedelic sort of red version of today's outfit as well.
Colors used: black, warm grey 10%, 50%, 70% and 90%, dark umber, sunburst yellow, goldenrod and pumpkin orange.