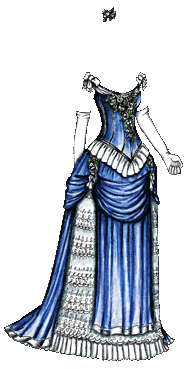 Click for larger version (PNG); click for PDF version. Click here for the list of dolls.
Angie was one of the two people who guessed all four winners for Best Picture, Best Costume Design, Best Actor and Best Actress, and her coloring request was:
How do you think the 1885 Black and White Ballgown done in a dark blue with silver and white accents would look?
Well, here's how it looks – I hope you like it, Angie!
The other winner was my husband – after some deliberation, I decided to allow him to participate, but I regretted that when he chose the winners (using, according to him, the most cynical selection technique possible). You can go see for yourself what he's making me do, I don't want to think about it until I have to do it!