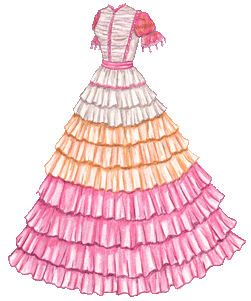 Click for larger version; click for the list of dolls.
Happy Valentine's Day, paperdoll fans, and you've got to admit that even if it looks like it was bought in a store, this is a delightful Valentine's dress. Brian and I have been into watching Firefly
lately, and we're almost through the series. (So please don't spoil anything from the movie or the last few episodes just yet; I know River Tam beats up everyone but I don't want to know any more.) Kaylee, the ship's mechanic, falls in love with this dress and gets to wear it to a party. In this very same episode Inara wears what may be the most gorgeous dress ever, but there's just something about this dress that's so very Kaylee, and probably instantly recognizable to every Firefly fan.
Don't be surprised if you see an Inara outfit here too, or two or twenty, because I swear every episode she wears something new that just bowls me over… but for now it's all about the layer cake dress. Until I revisit the 'verse, then, do enjoy these Firefly paper dolls. Holly also did two Kaylee outfits for one of her dolls, which you can find here and here. Thanks also to Can't Take The Sky, a Firefly fan site with great screen captures.