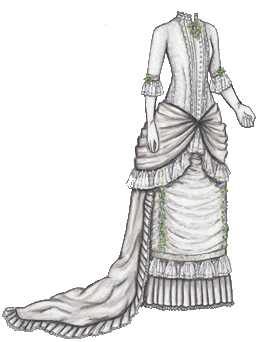 Click for larger version (PNG); click for PDF version. Click here for the list of dolls.
So remember I have three types of grey pencils: French Grey, which is what I usually use, Cool Grey, which has a bit more bite to it and is what I used for the wicked queen, and Warm Grey, which I usually ignore. Now, when I was sketching out this dress, my Warm Grey pencils called to me, and they said "What about us? It's been a whole week of white wedding dresses, won't you use us this time?"
Do me a favor and remind me not to anthropomorphize my colored pencils. There's a reason I never use my Warm Grey set, and it's that they're just too darn dark! I'm under no obligation to be fair to my Prismacolors, otherwise you would see a lot more Salmon Pink and Muted Turquoise. So I'm sorry that this wedding dress is a touch too grey, even though I started it fairly early in the day I didn't have enough time to redo it by the time I realized it wasn't quite what I wanted. Also, I didn't have enough time to do the veil and bouquet either, and now I am rushing to post at least the dress before we possibly lose power. I will do them tomorrow.
Anyways, this is an 1882 gown, and I like it despite the fact that it's a little bit too grey… I'm quite fond of Gilded Era gowns, even if it's unwise to try to finish one in a single day.