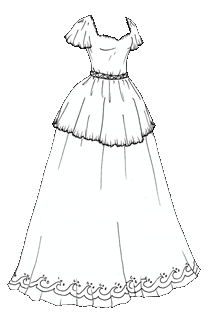 Click for larger version (PNG); click for PDF version. Click here for the list of dolls.
I wanted to draw a princess-ish dress today, but it's too hot and even drawing loads of fabric seems unappealing. (OK, so even with short sleeves, even if you imagine the fabric to be fairly light this is still quite a lot of imaginary fabric, but Ivy doesn't have the same concerns in her life that I do, so it's all right.) This one seems a little boring to me, but colored (maybe in light, cool colors) with a little pattern here and there, I bet it'd be really cute.
Brian and I saw The Secret of Kells today, a fantastic animated movie about The Book of Kells. The art style is absolutely gorgeous and intricate, and the story was charming as well. The waves here are kind of influenced by it, come to think of it, although I didn't really realize until Brian pointed it out!
Time for a new contest! Winner gets to pick any one of my black-and-white dresses and tell me how they want it to be colored. The last one got a mite tedious, so this one will run from now until 9:00 PM EST, June 2nd.
How many visits did my site get between (and including) April 1, 2010 and April 30, 2010?
Don't forget the rules…
1) If you've already won this year, please don't enter.
2) One guess per person per post.
3) If no one gets the exact number by 9:00 PM EST, June 2nd, I'll pick the closest guess.
4) I'll give one hint each day the contest goes on.
Edit: It's Sunday, and I'm not posting a paperdoll today but I am posting a hint! It's between 10,000 and 30,000.
For my poll, it looks like summer has pulled ahead slightly…