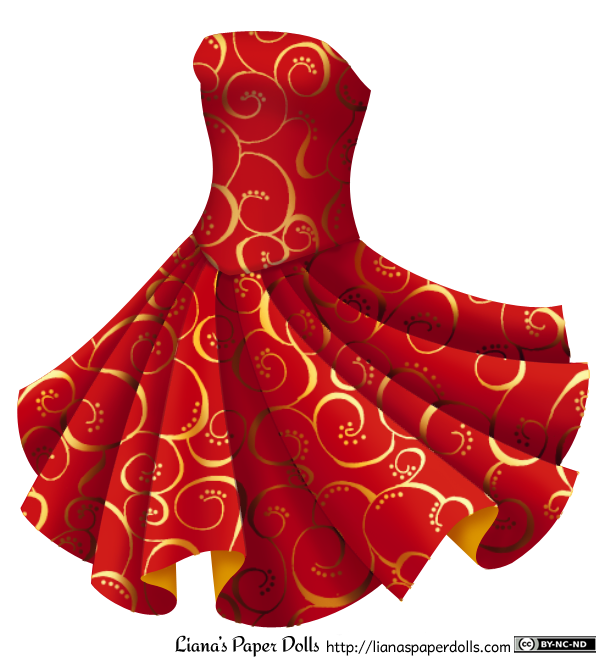 This dress was intended to be a birthday dress, but after much fussing in Photoshop I couldn't get my initial vision to look as I had intended it to. Just for fun I gave it a bright red color and a playful golden pattern, and then I couldn't bring myself to change it because it is just too cute. They don't all have to be super fancy, and I love the movement in the skirt. Maybe this will be the year I finally do a full set of birthday dresses, but this is not the month they will start.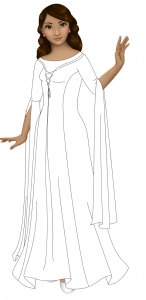 Thanks to everyone who entered my contest last week! I enjoyed reading everyone's opinions. The winner of the contest was Lorie Harding. I didn't have the black and white version ready by last week, but it's done now, with Mia modeling it for us. So, Lorie, please post a comment or e-mail me by next Friday to tell me how you'd like this one colored!
Next week, we have Adventures in Tulle, in which you all get a view into my digital coloring learning process and we wind up with a ballgown with a tri-color tulle skirt. Don't forget that you can now download PDFs of all of my 2014 dolls and outfits for free – easier than fussing with all the files individually! You can also follow me on Facebook, Twitter or Pinterest for sneak previews, paperdoll thoughts and pictures of pretty jewelry. If you enjoy my work, I'd also appreciate your support through Patreon.