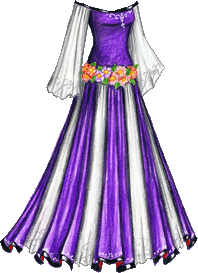 Click for larger version (PNG); click for PDF version. Click here for the list of dolls.
Well, this dress shows quite clearly why I shouldn't put off drawing until 9:30 PM — and furthermore, why I shouldn't try to correct mistakes at 10:15 PM. The black ribbon used to be a too-light lilac that was swallowed up by the rest of the purple; it did need to be changed, and I don't know what I could have done better, but I do know I couldn't have done much worse. Oh well. I like the rest of it, and I hope you all do too!
Misplaced black ribbon or no, at the moment I'm all caught up for the year with birthday dresses, which is a nice – and rather rare – feeling! February's flower is the primrose, and the birth stone is the amethyst.
This post also shows why I shouldn't start writing at 10:30 PM, so I think I had better stop here for now! I will try to muster up more spirit on Thursday.