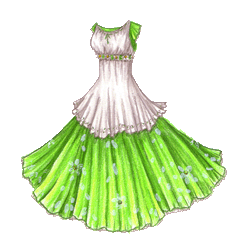 Click for larger version; click for the list of dolls.
So I did a birthday dress for January and then proceeded to ignore February and March — I'm very sorry, anyone with birthdays in those months who was waiting for one. (I'll do them this month, since belated birthday presents are better than nothing, right?) This is a dress for April, since one of the birth flowers for this month is the daisy. Like January's, it's intended to be vaguely angelic, but not based in any particular theology — I think of the birthday dresses as like those little statues you can buy for a kid every year where the characters get older, actually.
January's drives me crazy, because the white part on the red skirt, there were supposed to be flowers in there, and I got fed up with the dress and it was late and I never drew them in. Maybe I'll dig it out of my box and put them in, then it won't bug me… This one I like a lot, though, so that makes up for many failures.
Yeah, no April Fool's joke for you this year, sorry. Maybe next year!