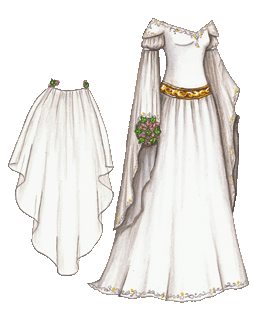 Click for larger version (PNG); click for PDF version. Click here for the list of dolls.
"This may or may not influence what I end up drawing," I wrote when I put up the wedding dress poll, but then "flowing, fantasy" gowns got over 50% of the vote, and, well, allow me to shamelessly pander for a night. I hope this is the sort of thing that people were envisioning; sorry that the bouquet looks so awkward. I envisioned it as a bouquet of ivy and sweet peas, incidentally, although I got a little tired towards the end.
Hey, let's do a new contest! This one will be easy, so someone's bound to guess it soon.
Last week (from the 8th to the 14th), how many different countries did my site visitors come from?
Post your guess in the comments! Again, the rules:
1) If you've already won this year, please don't enter.
2) One guess per person per day.
3) If no one gets the exact date by 9:00 PM EST, June 19th, I'll pick the closest guess.
4) I'll give one hint each day the contest goes on.
Don't worry, trazy, I will color yours next week, after I'm done with my week of weddings.