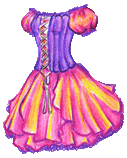 Click for larger version; click for the list of dolls.
Today is sort of a guest post! My cousin Becky and I, as I mentioned a couple days before, drew some paperdolls together – she did two, and this is one of them. I love the way the yellow makes the petal skirt look so vibrant, and the detail on the corset top. Yep, my family is cool! Someday I'll have a paperdoll jam session with my mom, too.
Becky loves her beautiful dresses too, as you see if you look around her deviantart gallery. This one is my favorite, with the gauzy layer on the skirt done so nicely (and the guy's cloak! Unlike me she can actually draw men) The advantage of paperdolls over everything else, though, is that all I really care about is the outfits! Yep, paperdolls are a superior art form… haha, OK, maybe just for me.