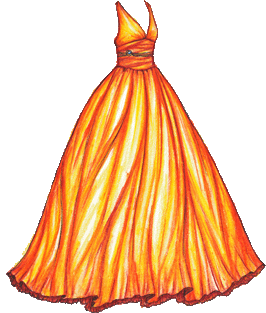 Click for larger version (PNG); click for PDF version. Click here for the list of dolls.
This skirt is not intended to conform to the realities of fabric. Paperdolls 1, real life 0.
In any case, it reminds me of poor damned Linnetta, possibly because of the pale vermilion and sunburst yellow. (How impossible is that dress, too? Paperdolls 2, real life 0. Still one of my favorites, improbable or no.) In my imagination, she and her sisters are still bound to the Devil, and he's never short of jobs for them. She can wear this, then, but I doubt it would give her much pleasure anymore.
Oops! I forgot to note down the colors I used for today's dress, and yesterday's too, and now the pencils are all put away… Let's see — black, pale vermilion, poppy red, sunburst yellow, yellowed orange, cream, non-photo blue, Copenhagen blue, dark umber, bronze. I think. Forgive me, I am still out of practice…