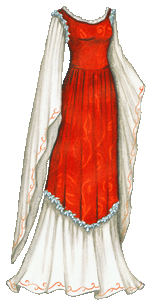 Click for larger version (PNG); click for PDF version. Click here for the list of dolls.
And, for my last post of June, we have… the January birthday dress. Did I ever mention how lucky I am anyone still bothers reading this site? I'm sorry, January birthday people, although you do technically have one January dress for Sylvia. I never liked that one, though. You see the big white band on the red overskirt? There was supposed to be a snowdrop pattern there. I just couldn't bring myself to do it for some reason. I don't know if I like this one either, but that's because the original is so much better than the scan… Oh well. Anyways, all I have to do is April now, and then I can catch up on the rest of the months as they come.
Prismacolors used: French Grey family (dress), Cool Grey family (snowdrops), Black, Kelly Green, Poppy Red, Crimson Red, Crimson Lake, Tuscan Red, Colorless Blender.