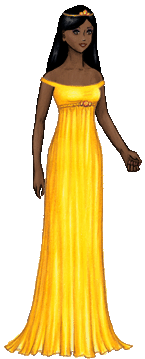 Click for larger version with gown (PNG); click for PDF version with gown. Click for larger version without gown (PNG); click for PDF version without gown.
I'm sorry it's taken me so long to get another doll up. I've had this dress drawn for months, waiting for a doll to go with it — it's that making a doll part that's the problem! Grace here was actually made from my upcoming system that will eventually allow people to create their own dolls, but that's not ready yet, so one doll will have to suffice for now. I think she turned out pretty well, so consider her a test of the system and let me know what you think! I named her Grace because it's a name I've always thought was pretty, but it's not one I can saddle any of my hypothetical daughters with, because any child born to me and my husband is bound to be woefully clumsy.
I'm wondering what you all think of putting the thumbnail clothes on the doll, now you've seen it a couple of times? Should I keep doing it? Take the poll, please!