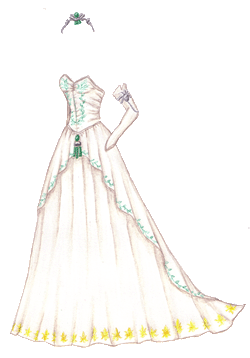 Click for larger version; click for the list of dolls.
Brian finished Final Fantasy IX recently, and since I've always loved the gown that Garnet a.k.a. Dagger wears at the beginning and end of the game, I just had to paperdoll it. For cutting this one out, it ought to work to cut the sleeve around the ends, and then both arm and sleeve go above the skirt. I am tempted to do a "Fancy Gowns of Final Fantasy Games" series…
Once again, Verithin pencils to the rescue with those vines. I love those things.
Don't forget to vote for the mermaid tail for next Monday: