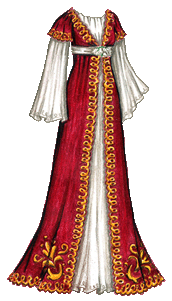 Click for larger version (PNG); click for PDF version. Click here for the list of dolls.
Here's the 2011 January birthday dress! I had thought about not doing them this year, actually, but then I had an idea for a March one that seemed like it would turn out beautifully, and now I think I will take another shot at completing a set this year. Now that January is finished, all I will have to do is one for February and I'll be all caught up for at least a whole week!
I've got a good feeling about this year. This year may bring a dress for every month, including poor neglected April, July and August (thanks Liz!). For those of you with January birthdays, I am sorry this one is late; speaking of which, I'm sorry that today's dress is late in general. Well, Sunday isn't too bad — and for those of you for whom it is already Monday, well, I throw myself on your mercy.
January's birth flower is the snowdrop, and the birthstone is the garnet. Incidentally, this is the first January dress I've done that I really like. (Technically, I liked the previous year's dress, but it scanned out really badly and you can hardly see the pattern…)