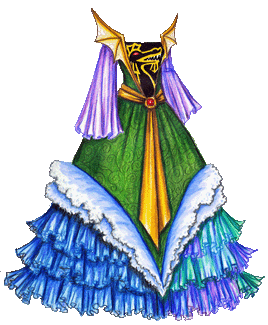 Click for larger version (PNG); click for PDF version. Click here for the list of dolls.
"It was a picture of a ship — a ship sailing nearly straight towards you. Her prow was gilded and shaped like the head of a dragon with wide open mouth. She had only one mast and one large, square sail which was a rich purple. The sides of the ships — what you could see of them where the gilded wings of the dragon ended — were green. She had just run up to the top of one glorious blue wave, and the nearer slope of that wave came down towards you, with streaks and bubbles on it. She was obviously running fast before a gay wind, listing over a little on her port side. (By the way, if you are going to read this story at all, and if you don't know already, you had better get it into your head that the left of a ship when you are looking ahead, is port, and the right is starboard.) All the sunlight feel on her from that side, and the water on that side was full of greens and purples. On the other, it was darker blue from the shadow of the ship." – The Voyage of the Dawn Treader, Chapter 1: The Picture in the Bedroom
I have often thought it would be fun to do something like this, and since so far this February I have done nothing but a trio of (admittedly cute) rainbow gowns and feel rather as if I am in need of forgiveness from my very patient audience, I thought that now is as good a time as any to try it out. Before you ask, no, I have not seen the movie; rather, I saw a couple of the trailers and decided I most certainly did not want to see the movie, but I would very much like to re-read the book. My favorite of the Narnia books is The Horse And His Boy, but I love the sense of adventure and beauty in The Voyage of the Dawn Treader, and as I re-read it, I couldn't help but think about adapting it to paperdolls. It's a great medium for a project like this, don't you think? It provides room for something in between a costume and an illustration, and allows waves to become ruffles and for wildly impractical dragon wings that frame the face.
I'm going to aim to draw a new one every week until I finish, not a whole series of them all at once, so don't be alarmed when there is a kimono next Saturday! Also – don't forget to join me for livedolling the Oscars! Apparently the part I'm most interested in (that is, the red carpet) will start at 7:00 PM EST, 4:00 PM for me out here on the west coast.
Now, let me see if I have correctly judged what will most delight a nice big share of my readers…
Colors used: Poppy Red, Crimson Red, Tuscan Red, Black Grape, Violet Blue, Lilac, Cool Grey 20%, Cool Grey 50%, Cool Grey 90%, French Grey 10%, Black, Dark Umber, Light Umber, Cream, Sunburst Yellow, Goldenrod, Dark Green, Kelly Green, Peacock Green, Parrot Green, Pale Sage, Light Green, Spring Green, all the blues I own Light Cerulean Blue, China Blue, Powder Blue, Indigo Blue, Peacock Blue, Sky Blue Light, Cloud Blue, Mediterranean Blue