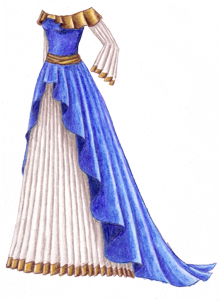 Click for larger version; click for the list of dolls.
I can almost hear my mom now. "She said her midterm was on Thursday, why isn't anything up yet?"Poor Mom. ;) This is just an update of one of my old Boutique fantasy gowns. This was one of my favorites; there was something about the blue that I liked. I still remember which blues I used originally (ultramarine and Copenhagen blue)… but arguably I was better at doing gold back then.
Check it out, University of Texas has a paper doll collection. They have a few dolls and outfits online, too, representations of women who donated to the accompanying textile collection; I totally dig December's Christmas tree dress.