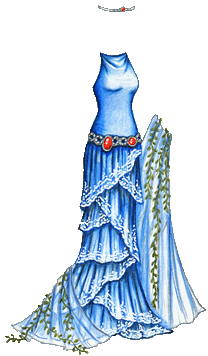 Click for larger version (PNG); click for PDF version. Click here for the list of dolls.
As you know I generally have a soft spot for anything flowing and cool-colored, so I wanted to do a generic Queen of the Seas costume this month. If you were wearing this to a party with no particularly picky mythology or history geeks in attendance, you could perhaps call yourself the Queen of Atlantis, but I can't just go blithely saying something like that somehow.
Lindsey commented on my blue and gold princess gown and said that she'd seen a similar one on Zwinky, but I can't check it out because I use a Mac; can someone take a screenshot of it and send it to me, please?
The verdict is still out on the Good Queen…
Prismacolors used: Cool Grey 30%, 70%, 90%, Black, White, Indigo Blue, Denim Blue, Light Cerulean Blue, Sky Blue Light, Marine Green, Jade Green, Tuscan Red, Poppy Red, Pale Vermillion; Verithin Black and Cool Grey 70%; Sakura Soufflé White.