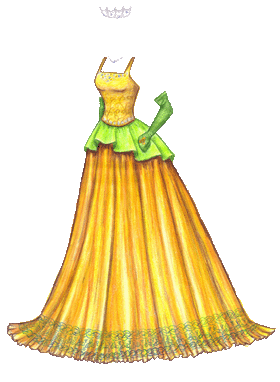 Click for larger version; click for the list of dolls.
Now, I happen to know my mom edited this revision of this dress, and therefore it had to be drawn, because my mom's awesome. I think I ought to ask her to design me dresses more often when I'm feeling unimaginative! She's also more dangerous with the Prismacolors than I am – she does absolutely gorgeous drawings of flowers and plants on cards, then sends them to people. She jokes that you only get to come to her funeral if you got a drawing from her. Here was her description of the dress:
A sunflower yellow bodice,green peplum with a beyond floor-length skirt done in blended colors of harvest. The hem is heavily decorated with a matching line of Celtic designs in dark blue, with golden accents.
The neckline is decorated with very small dark gold and blue accents, with tiny sparkling swarovski crystals and blue pearls in the center. The waist is decorated with a slim swirly golden pattern and small crystal beads, and the skirt is draped, cascading down to the floor.
She also has a pair of long dark green gloves that reach halfway up. The back of each hand is embroidered with harvest and Celtic designs. On her feet are soft blue satin slippers.She also has a subtle webbed crystal frill tiara (worn front-to-back)with dripping tiny blue seed pearls. Around her neck is a matching crystal and single pearl necklace.
I guess you have to imagine the satin slippers, and there wasn't enough space on the glove for a harvest design, but I think this came out really nicely and hopefully close to what Mom was imagining. This is one where I wish I could show you all the original — the harvest colors on the skirt are a lot prettier on the real thing. It made me decidedly twitchy to finish coloring the skirt, then draw patterns all over the hem, but it worked, I think!