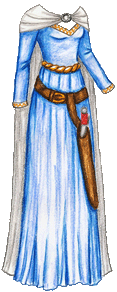 Click for larger version (PNG); click for PDF version. Click here for the list of dolls.
Welcome to day five of the Queens of the Sea series, part of the Random Magic Pirates book tour! Here is the mini-bio for today's pirate, provided again by Lyrika:
Grace O'Malley: The Rebel Chieftain

Grace O'Malley, or Gráinne Ní Mháille in Gaelic, was a de facto Irish clan chieftain and pirate. She challenged English merchant ships and interrupted trading routes, which brought her to the attention of reigning monarch Elizabeth I.

Elizabeth sent a military commander to deal with the trouble, and he reportedly killed Grace's oldest son, turned her second son against her and imprisoned her youngest son. Grace wrote to request an audience with Elizabeth, and was granted one. They agreed on a truce, but the truce was brief.

The meeting is notable for its unusual nature, as it included a negotiation of terms between two of the 16th century's most unusual and powerful women — one a queen of royal blood, and the other a
pirate queen of her own making.
You can read more about Grace O'Malley at Miss Page-Turner's City Of Books on May 18th, as part of the Queens of the Sea series. (I'll update the link after it's been posted.)
I really wanted to try to draw something she could have worn for her meeting with Queen Elizabeth, but I can't really make heads or tails of how that picture works — how about that cape's neckline? In the end, I based the general design on a statue of Grace O'Malley that I thought was very beautiful.
Don't forget to enter my contests! Click here for the chance to win an original drawing, for those of you who can give me an address if you win, and click here for the chance to design a pirate outfit, open to everyone!
Check out the tour schedule here! And for more information about Random Magic, here's the trailer for the book.
Also, check out the Rum + Plunder treasure hunt for more pirate prizes!
I'm amused by the poll results so far…