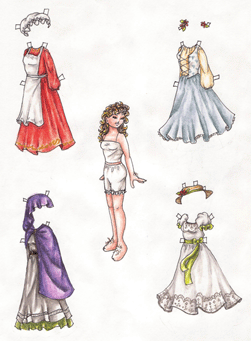 Click for larger version.
I'm still on vacation (will be until Saturday) and trust me, I'll have a lot to say about it when I'm back home! In the meantime…
I drew this hobbit girl for my mom a few years ago, I think for her birthday. My mom is a huge Lord of the Rings fan, and we both pretty much agree, if we were in that world we would make excellent hobbits. (Second breakfast? Yes please) So here's a little hobbit girl with four outfits.
Anyways, I'll be back home on Saturday, but between the red-eye flight home and the time zone changes, I might be too loopy to post anything for a day or two…