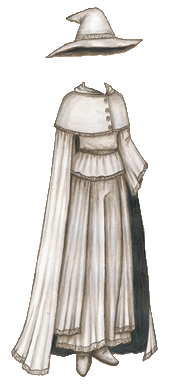 Click for larger version (PNG); click for PDF version. Click here for the list of dolls.
For tonight, here is my version of a female wizard. (My husband called her "Gwendolf" and the name stuck. My apologies.) None appear anywhere in the series, but it is for Halloween and I thought it would be fun… And it was fun, even if I used up a year's worth of French Grey pencils, even if the end result is a little boring.
My husband heard me complaining and warns me "You should watch out. You don't call wizards boring. They'll transform you into a little toad!" I should not like to be transformed, into a toad or otherwise, and so I added cute little hem designs and dialed down the criticism of the grey. If I was sticking to canon I could have given her a blue hat, but the more I look at it, the more I think, well, she looks kind of cool in her desaturated glory… Actually, playing around with hue/saturation in Photoshop, I can make "Gwendolf the Off-White," "Gwendolf the Lime Green" oh and you don't want to see "Gwendolf the Electric Blue," trust me…
I'm afraid this one is going up a little late tonight, but it's still the 8th where I am. So far I think I'm doing better than last year in terms of paperdoll consistency.
There's not much reason to put up the poll today too, but I might as well. Don't worry, fairy fans, I would place money on them taking the third week, if I was a betting sort of gal…