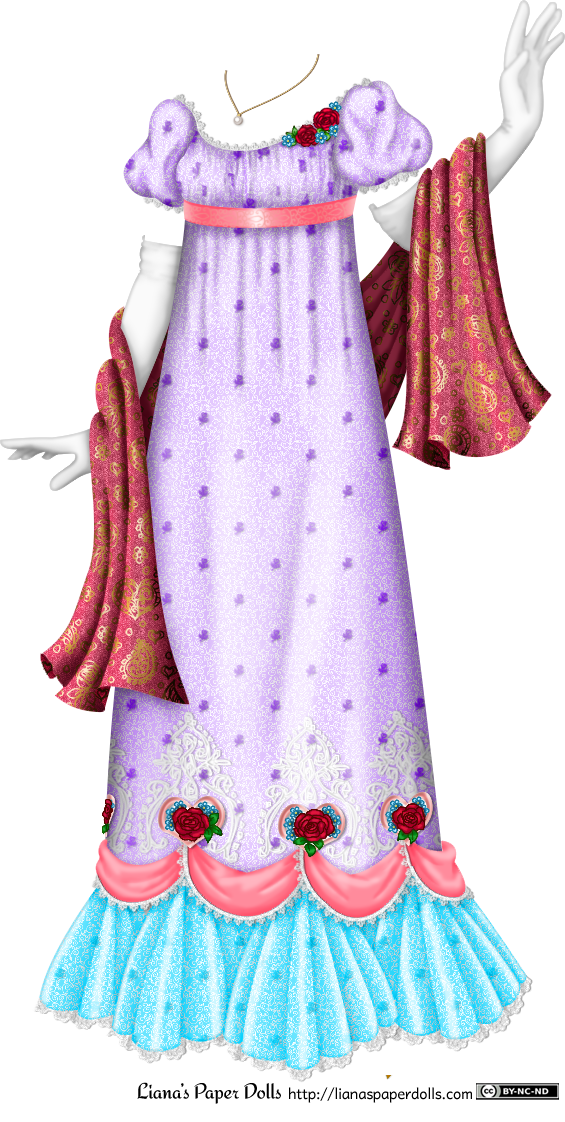 I didn't finish the dress I meant to have up today (the contest winner), so for now, I will present the recoloring chosen by one of the two winners of my Oscar contest, dannyscotland! Technically, it was chosen by her 5-year old daughter, and it did turn out to be vibrant. She wrote:
I have consulted with my 'assistant' a.k.a. daughter, and she would like to have you color the Valentine's Day Regency Gown. For five years old, she's pretty specific, so please feel free to alter as you see fit. :-) And thanks for understanding. She (and I, I guess) would love to see turquoise gloves and bottom ruffle, a pink shawl, lavender dress (the body of the dress), red roses, and pink draping over the bottom ruffle, kind of like it is now. Maybe it could be a different shade of pink?
Dannyscotland, I hope you and your daughter like it! It was fun for me, because the finished dress is quite different from the original, but it does some fun things in and of itself. The blue of the ruffle actually complements the forget-me-nots, and with the lavender background, you can see that there is a very subtle swirl pattern on the fabric, which was pretty hard to see on the earlier version.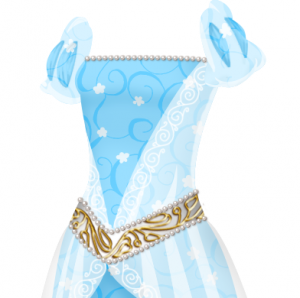 But wait – that's not all there is today! RLC of Paper Thin Personas has been doing interviews with paper doll bloggers lately, and for this month, she interviewed me! Check out the interview for my thoughts on why I love paper dolls, how I created the pose for the new doll series and whether I prefer sparkly things with some shine or shiny things with some sparkle. Plus, I did a blue princess gown exclusively for RLC's site! If you'd like to see and download the full dress, you'll have to check out the interview.
Come back next week for the 1912 gown with colors and patterns chosen by my husband! (I'll give you a hint: Beetles.) I'll do the poll next week, too. Follow me on Facebook, Twitter and Pinterest for site updates, paperdoll thoughts and very pretty opals. If you enjoy my work, I'd also appreciate your support through Patreon.