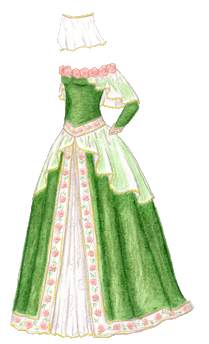 Click for larger version; click for the list of dolls.
So what if "princess" is possibly the least imaginative costume for anyone past second grade? It's pretty, and if there's anything I like in this world it is pretty dresses. I believe, now, that I may be the foremost non-Disney expert on what makes a dress princess-worthy, for these are the kinds of things one thinks about when one draws lots of paper dolls.
I don't know much about the owner of this dress except that she does like her roses, and I would be surprised if she cultivates them herself as the owner of this pink princess gown does. No, this princess is a bit of a terror, and she insisted that her dress should lend her a sort of mature innocence, that it should be both heavy and light, serious and frilly, and highly becoming to her porcelain complexion and rich brown hair. It it is no coincidence that her dressmaker took a very long vacation after its completion. But this, I think, is not the kind of princess to worry too much about the anguish of such people. I for one hope the dressmaker got far enough away not to hear about the princess saying, at her next ball, "Oh, this old thing? You like it? It's just an old rag I had lying around in my closet."
The veil should be cut between the gold part and the white fabric, such that the doll's head can be slipped through and the gold band goes around the forehead while the veil flutters behind.
Take my new poll: