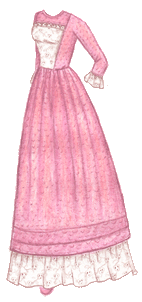 Click for larger version; click for the list of dolls.
This is based off of a dress that Janel made for her daughter's birthday. After yesterday's Calamity Jane, I needed to draw something extremely cute!
In my imagination, this version of the dress belongs to a young princess who loves pretty things, but isn't prissy or as high-maintenance as a lot of princesses are these days. She loves being outdoors and she especially loves gardening. She's growing tomatoes and wildflowers now, and she feels like she works hard to make her little garden grow, although that's kind of a pleasant fiction created by the indulgent head gardener. I like her and would write more about her, but I didn't finish this dress until it was late, and I'm tired, so she will have to wait for another dress…
If you remember a different shade of pink for this dress, it's not just your imagination: when I first posted it, I posted the first version, which scanned very poorly (the color changed, I lost a lot of detail on the white parts, and so on). This version is closer to my original drawing.