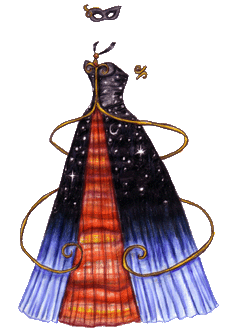 Click for larger version; click for the list of dolls.
So, I hope you all out there are having good luck with your New Years resolutions, because I, oh, TOTALLY failed mine already. ("Draw more," of course.) Yeah, sad, I know. I have no excuse, and I offer a fancy dress in penance.
I designed this one when drawing Diana's masquerade gown, but I thought it would be a poor spy who would wear something so dramatic, so I drew the blue gown instead. But I did like the design, and so it didn't get tossed with the rest of my sketches.