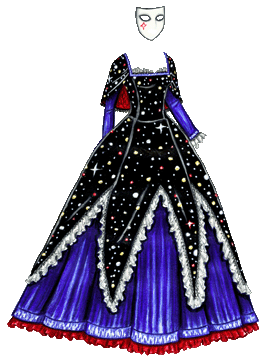 Click for larger version (PNG); click for PDF version. Click here for the list of dolls.
Linnetta, having refused several offers to dance, was catching up on society gossip. A young man–unfamiliar and handsome–approached. His exquisite demon costume, if cliche in concept, was marvelous in execution. Linnetta looked into his mesmerizing, dark eyes. He was grand, effortlessly aristocratic, putting everyone who had asked her for a dance to shame. She accepted his offer without even considering any of her stock phrases of polite refusal.
Unsurprisingly, he was a marvelous dancer; but Linnetta was quite out of practice, and her feet hurt, and she felt grateful when the first song ended. But the man's grasp stayed tight around her waist, and when she looked at him with alarm, he only shook his head and said, "I insist. After all, you have been isolated for so long…"
There was a rush of whispering behind them, and the pair turned to see a new arrival to the ball: a woman who wore a spangled gown too dark for the occasion, quite out of place with the bright colors of the masquerade. She did not speak, but prowled the edges of the dance
floor. Linnetta's partner followed her gaze.
"I don't believe I've met her," he asked. "Have you?"
"I'm afraid not," Linnetta answered. He made no further conversation, and she put the sparkling dress out of her mind and returned her concentration to her aching feet.
—————————
No one's guessed the singer/group I learned to draw gold from yet… At this point the idea of not having to color that black and white gown seems like mercy, because, ow, my hand. Put up a new poll for next week – put in a couple new suggestions, dropped the bottom three from last week.