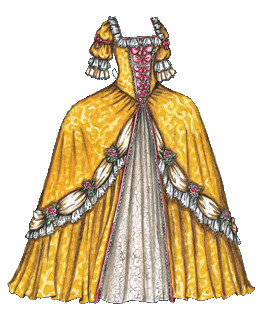 Click for larger version (PNG); click for PDF version. Click here for the list of dolls.
Trazy won the contest before last, for being the closest to guess our wedding anniversary (August 9th). She wrote: "i think i would like the newest balck and white dress to be colored in the gold colors, and have some kind of royal feel to it. I want the bows/decorations/trimmings to be pink, and the rest either white, gold, tan, or something similar. the skirt should have some kind of lighter golden swirly royal pattern, a lighter gold than the background…"
I would write more about this dress, but this one took me four hours to color, and there is a sort of tingling feeling in the tip of my left thumb, plus I'm having trouble feeling the pad of my left index finger now as I type. I might have overdone it… but it was worth it!