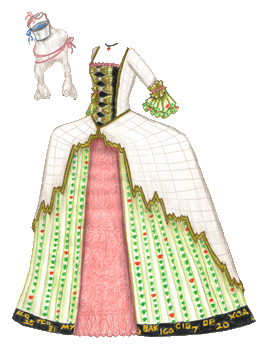 Click for larger version; click for the list of dolls.
So, my husband and I live in Michigan, more specifically in Ann Arbor, one of the cities surrounding Detroit. On the good side, it's almost spring and there's nothing like the University of Michigan campus when everything is blooming and the students come out of hiding to play Frisbee by the Diag. On the bad side, the unemployment rate is 11% and our poor state is national shorthand for a grim future. Now, if I was a more diligent, self-promoting kind of artist, instead of the flighty, self-doubting, unambitious dabbler that I am, I would be taking advantage of the sad state of American finances, pitching books, putting out press releases, writing up guest posts for other blogs and who knows what else. Why's this? Because paper dolls are the perfect toy for the modern recession.
Think of it: Iris and Sylvia can wear anything I draw, so it's not like a regular old book with a limited number of outfits, and you can print this crazy gown for just as much money as it takes to print this subtle shift. Barbie can't seamlessly transform into a mermaid or a ninja near as well as my girls do, and I doubt her people would let her dress up in anything too creepy. And you know what else? No Barbie doll, no other paper doll out there, no one in the world period, has a terrifying cross between one of Marie Antoinette's court gowns and the symbols of American financial catastrophe. Yes, this may be a slightly strange toy, but that's OK: for those that don't yet see the tumbling Dow in the skirt, print out this pretty princess instead. We who see the humor of the pink slip petticoat and pouf à la bailout will play princesses of a more desperate time and space. Pass the cake.
Yes, I'm reading Queen of Fashion: What Marie Antoinette Wore To The Revolution and loving it. (thanks RLC for the recommendation!) See, I've always thought of 1800s fashions as beautiful and elegant (and OK, maybe at worst endearingly funny-looking) but I never could get into 1700s fashions, with the goofy hair and panniers and all. But this bias is probably because so many classic books I've read are set in the 1800s: the Austen books, of course, but also Vanity Fair, Little Women, Sherlock Holmes, the Anne series, Gone With The Wind, Edith Wharton novels, Jane Eyre, Anna Karenina — anyways, I can go on and on, but the point is that reading / watching movies based on / paperdolling these books gave me a vague idea of the 1800s in European / American women's costume. However, I don't have a similar basis for the 18th century. The only ones I can think of offhand are the Three Musketeers, A Tale of Two Cities and the Scarlet Pimpernel series, and Evelina which I just finished. Somehow, looking at all the robes a la polonaise for Evelina flipped a switch somewhere, and now I'm intrigued by that same goofy hair and panniers. I'd like to get more into fiction from the 1700s or set in the 1700s. Can anyone recommend anything for me? I'd love to have some 18th century audiobooks from Librivox, but I'll also go the old fashioned way.
The hairpiece will sort of fit both dolls, but there's one part of Iris' hair that you would have to bend back. My next series of dolls will be bald.