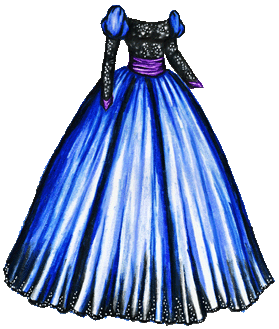 Click for larger version (PNG); click for PDF version. Click here for the list of dolls.
A few weeks ago, there was a thread on Metafilter written by a woman who works as a party princess, talking about what her job is like. That is, she gets dressed up as Cinderella, Rapunzel or so on, then arrives at the birthday girl's house to direct games, tell stories and otherwise let the good times roll. Her tales of how much the little girls love princesses are hilarious, and they're accompanied by some adorable, funny illustrations. (They've also made me wonder why I haven't found a good way to make millions off my paperdolls. The dresses seem to be a major selling point with this whole princess adoration thing.) They're posted on the Something Awful forums, so you can't easily read through them all at once, but here are links to the ones currently available. one, two, three, four, five, six, seven, eight, nine, ten.
Since I've been enjoying these stories so much I thought I'd make a paperdoll for them, based off the name she uses on Twitter, Assassin Princess. What kind of outfit might an assassin princess wear? I imagine she is going to the ball not to win Prince Charming's heart but to stab it. In such a lovely dark gown, snatching the prince's attention away from a simpering beauty in pink is hardly a challenge. A few dances later, they are standing on a secluded balcony, making small talk about the moon and stars, and he leans in for a kiss… Unfortunately the poofy skirt hides several pockets, one of which holds a dagger. As he's laying on the ground, the last thing he sees is the *sparklesparkle* of the sequins on the swishy hem of her skirt.