Click for larger version (PNG); click for PDF version. Click here for the list of dolls.
I'm back! I never can stop paperdolling for too long, even with a baby. As you can see, there's something different about this dress. It's one of my black and white dresses, and I've colored it in Photoshop. Please don't worry that I've abandoned my colored pencils! I've decided to learn to use Photoshop to color for a project my husband Brian and I are working on. I've always used it for various things, but there are so many things I still have to learn about it. Melissa Evans' Coloring Line Art tutorial has been the most useful tutorial I've found, although I've poked at other ones as well. I've got some quibbles about how this one turned out, but it is a first attempt. It is much easier than I thought it would be, once you learn how to break it down. (For example, clipping masks changed my entire outlook on coloring with Photoshop. It makes so much sense! I just never knew.) For this dress, I used a pattern made by Jen of Pixels & Ice Cream, Feliz Navidad Damask. I'm on the lookout now for good patterns and brushes, so if you know of any, please let me know!
You may have noticed an e-mail sign up form to the right. If you sign up, I'll e-mail you whenever I have a new update. Of course, I won't sell your address or spam you or anything like that. I hope it's a good solution to my habit of erratic posting.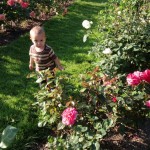 How is Milo doing, you might ask? He's doing beautifully! Just look at him. That's where all my free time goes. It's also why my desk is piled three feet high with books. (He likes to take them off the shelves, so I have to rescue them.) Another reason why, for the time being, digital coloring wins over ten plastic bags of colored pencils…
I have a long ways to go to get good at digital coloring, so I'm going to try to do a lot of it in the next few months. So let's have a contest!
What is Milo's favorite food?
The first person to answer correctly gets to tell me how I should color this 1930s black and white gown. (I'm going to color other ones eventually, but for now I want to practice on this one.)
For this contest, even if you've won one of my previous contests you can enter. Let's call it the great contest reset button. One entry only, please, and my mom and husband are excluded. (You guys get a free suggestion without having to enter, how's that?) Get your entries in now, while everyone else has forgotten this blog exists!