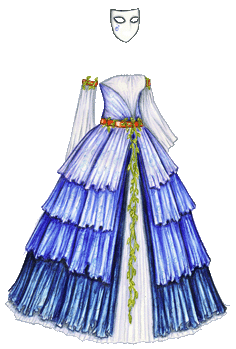 Click for larger version (PNG); click for PDF version. Click here for the list of dolls.
When her partner suggested they sit, Linnetta agreed immediately, hoping that it wasn't obvious that she was stumbling, rather than gliding, to the edge of the dance floor. He guided her to a chair beside another stranger, a woman dressed in shades of blue that seemed to shift and flow. Linnetta's fatigue must have been getting to her; her head was swimming. Linnetta accepted a glass of punch, and — when she'd finished the whole thing in one decidedly un-aristocratic gulp — the woman in the blue gown had gone.
"I think I had better leave soon," Linnetta said tentatively. "I'm exhausted… I think I've been overdoing it tonight."
"But you can't leave yet," her dance partner answered, "the queen of the ball hasn't been announced!" He leaned towards her and whispered conspiratorially, "You're bound to win…"
This cheerful thought made her sit up a little straighter, eyeing her competitors. Certainly no other gown was as striking as hers, and no one else had a prayer of causing as much sensation as she had simply by showing up. Her partner scanned the crowd too, frowning.
—————————
… Some dresses, like yesterday's, take pages and pages of sketching and redrawing, and some dresses you sketch with a cheap pen while waiting for your car to be repaired and they come right together and couldn't be any other way. Not complaining. I like this one, although the two middle blue shades are more different on the original than they are in the scan. (Today, after a good night's sleep, I like the green one too…) The poll is still up, so please vote.