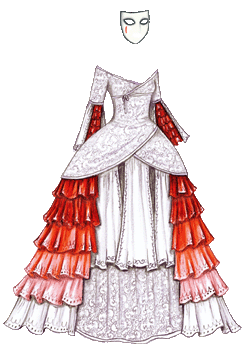 Click for larger version (PNG); click for PDF version. Click here for the list of dolls.
"Look at that one," he said, pointing to a woman in a white and red gown. "How brazen to wear such a thing."
"What do you mean? It's kind of an odd color combination, but…"
"Considering poor Lenora's fate, it's downright indecent." He shook his head. "She must not have known, or she'd have never worn such a thing tonight."
"I don't think I've ever seen her before," Linnetta replied, "so I'm sure it's just a coincidence."
"It seems to me Lenora's story is the most tragic of all of your sisters," her partner said. "How horrible her last days must have been."
"It wasn't her fault though. About Georgiana and Ginevra, I mean…"
"Who's to say for sure? She thought it was. Maybe Georgiana was just an accident, but she did deliver the poison to Ginevra."
"Shall we dance again?" Linnetta asked, hoping to stop the conversation, but she regretted the words as soon as they were said. Just getting to her feet made her feel light-headed, and she clung to her partner as they made their way to the dance floor. Where was her father? Once she could have counted on thoughtful Ginevra to save her from such a predicament, or for Celestine to cause some sort of distraction.
"It's all right," he said. "This will be the last dance before the announcement of the queen." She could hardly pay attention to the dance or the music; she had to fight back the feeling of being overwhelmed. It didn't help that her partner was still talking about her family.
"I've heard," he said, "that towards the end, Emmeline became paranoid, which I suppose was a reasonable reaction given the circumstances. She said Celestine complained of a crushing feeling right behind her eyes, shortly before her unfortunate boating accident, and that Lenora refused to see anyone before she took her life, blaming a horrible headache. And so when she started getting headaches herself, her own retreat was foretold."
"You know more than I do, I'm afraid," Linnetta said, her eyes downcast. "I was so dreadfully sick that the whole time is still such a blur. My father shielded me from the details, too…"
"Of course. You wouldn't have needed to know things like that," her dancing partner replied.
—————————
BitterLilly sent me colored versions of the two most recent black and white dresses – they're very delicate and cute! Click for the princess gown and for the masquerade gown. And as before, vote for next week and… uh… start suggesting literary character Halloween costumes, because I was counting on fairies winning and I haven't thought of any. I'd like them to be Halloween related in some way though. Pride and Prejudice and Zombies is probably in, for example. Assuming that fairies don't make a comeback…