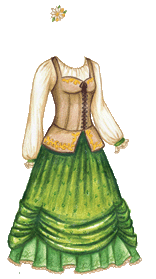 Click for larger version (PNG); click for PDF version. Click here for the list of dolls.
So, as I've discussed here before, my mom and I would doubtless be hobbits if we were in this world. I did start reading the Fellowship of the Ring again, and I've just finished all the Shire stuff; aside from all the stuff about who was whose third cousin twice removed, which I am quite sure I would forget entirely, it sounds like my kind of place. We might admire the elves from a distance, but at the end of the day I'll take the hobbit-hole and frequent presents…
Now, my paperdoll is built a little more like an elf or human, and you will have to draw the hair on the tops of her feet yourself, but she still gets a hobbit dress because hobbits are fun. And they like green! Yes, I'm so there.
Poll is still going… fairies could still take it all, but I hope not because I would love to do a week of lavish masquerade gowns… is it bad of me to influence the voting?