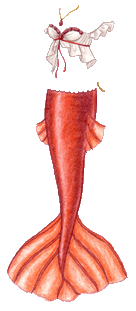 Click for larger version; click for the list of dolls.
This mermaid was born with red hair and a red tail, and although red has positive connotations in mermaid culture, associated with weddings as it is, she thought it was just too unfair for words to be naturally confined to one color and longed for shining black hair, or maybe a lovely gold tail instead. (Most mermaids have different color hair and tails, so we might consider her something of a mermaid albino, in a way.) She was quite self-conscious about it for some time, because she was teased about being destined to marry early by her mom and sisters and the less kind mermaids nicknamed her "Sockeye." Then she figured out that humans found red an intriguing and sexy color, and they didn't know that her peers thought that she was some kind of freak. So, far from being ashamed of her natural coloration, she embraced it and started spending more time on land than sea, dancing all night in outrageous crimson gowns and demanding presents of ruby jewelry from her admirers. She ended up forsaking the sea entirely and became a famous actress among humans, never marrying but constantly throwing spectacular parties in her indoor grotto for her favorite actors, artists, aristocrats and sometimes even a reformed pirate or two. Sometimes she would send invitations to those who had called her "Sockeye," but the invitations were meant as a slap in the face and all concerned knew it.
Putting our scarlet girl aside for now, I am quite happy today because I ordered sixty-one new colored pencils this morning. Ten of them are colorless blenders, since those are like water running through my hands, soon sharpened into nothingness (well, actually into little stubs I can't use until I find some decent pencil extender). Maybe 40% of them are replacements of colors that are getting low, and then the rest are colors that have come out in the ten years I've had my set. I'm ecstatic just thinking about their names! Pale sage! Ginger root! Kelp green! Come to me quickly, little pencils, and we will have some fun together.
This poll has a clear winner so far, but it's not time for it to go away yet…