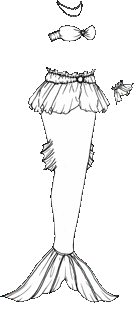 Click for larger version (PNG); click for PDF version. Click here for the list of dolls.
I don't know about you, but I am tremendously sick of wedding dresses. That's one of the two problems I have when I do theme weeks: first, I get sick of the subject, second, I feel like I want to make every day better than the one before. It's not necessarily a good combination. I do feel, though, like I've got the desire to play around with the white gel pen out of my system, though. I haven't even been able to bring myself to finish the veil from Friday's, and I missed a day for the first time since I started again, because I wasn't feeling well Saturday. Well, this week, there will be color! Lots of color! But for today, a replacement black-and-white mermaid outfit. So let us say instead, there will be color! lots of color! tomorrow! Or color this and post it yourself, and you can provide me with color for a day.
It does occur to me that this style of top works rather poorly on this doll shape if you actually cut it out… I'm sorry, I don't have time to try to fix it tonight. I'll think about it a little more, though.
One benefit of the theme weeks is that I do enjoy putting up the polls afterward…