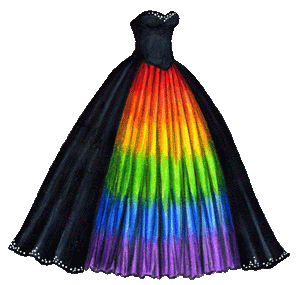 Click for larger version (PNG); click for PDF version. Click here for the list of dolls.
I guess that the key to the hearts of my paperdoll girls (of all ages) is a dress with unabashed rainbows. I will remember that! I admitted to someone recently that sometimes I put up polls purely for validation and attention, not so much because I care about the outcome of the question: I love seeing the numbers go up and knowing you're all out there, some days. And perhaps, now, we'll add another behavior to that tendency: just as on days when I draw mostly in white, it probably means I'm tired and don't want to paperdoll, on days when I draw rainbows, it will probably mean I need the twin boosts of bright colors and uncritical adulation!
Ah, but I don't need that today… Today is just a bonus because I'm charmed by the response, and I love you all. I'm not permanently switching to a rainbow-centric approach, no worries… Saturday's dress will probably be rather more somber.
Prismacolors used: Crimson Red, Tuscan Red, Poppy Red, Pumpkin Orange, Denim Blue, Goldenrod, Canary Yellow, Light Cerulean Blue, Cool Grey 70%, Lilac, Violet, Black Grape, Spring Green, Apple Green, Olive Green, Chocolate, Black, Peach, colorless blender, Sakura Souffle in white