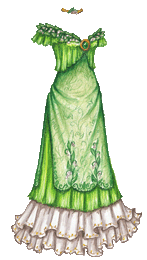 Click for larger version (PNG); click for PDF version. Click here for the list of dolls.
Now all of you born in different months are going to have some words for me, aren't you? Or maybe some words with me. I don't know which preposition makes it sound more severe. Well, green is a calming color, right? Look at the pretty green leaves, and the way the chartreuse fades into white on the edges of the fabric (a little more apparent in the original, sadly), and the wispy scroll pattern on the middle green layer. Don't look, for my sake, at the long gap between this dress and the last one, or the missing blogroll that I never quite got around to putting back up after a server change, or the embarrassing state of my e-mail inbox, or all the increasingly heartwrenching comments on the last post. Green, right? Ooh, green.
Anyways, this is, of course, the May birthday dress… The May birthstone is emerald and the birth flower is lily of the valley, so I couldn't resist. Plus, I guess I wanted to make something fairly ridiculous, since it's been a while. I like to remind myself I haven't forgotten how to use my colored pencils…
I took down the poll, because just thinking about it made me feel like a failure and a disappointment, both of which increase the odds that I'll let the site go for another three months. I think I'll probably be happier if I don't revisit any of the things I never finished for a while. I'm sorry.