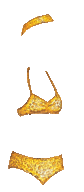 Click for larger version (PNG); click for PDF version. Click here for the list of dolls.
Does it look like I'm phoning it in today? Technically I phoned it in earlier this week and then couldn't upload the finished drawing, got distracted and whoops it's Thursday already? Sorry about that.
Anyways, How To Stuff A Wild Bikini is one of those 1960s "beach party" movies, and for my money it's got to be one of the stupidest pieces of entertainment I've ever encountered, but since I didn't pay for it that doesn't mean much. I watched it on Hulu the other day, for some reason… I think I must have been bored, and the name floated into my mind from when I was on a Buster Keaton kick a while back, because he plays the shaman. Anyways, if you can turn your brain off entirely, it's reasonably fun and silly, the Bewitched shout-out is hilarious and I liked the costumes (I had no idea until I was reading later that the lead actress was actually pregnant at the time – nice disguising work!) This is the wild bikini of the title – that is to say, it actually spends some time walking around on its own – plus headband. I am not quite sure it would stay on the paperdoll, so good luck with that.
The exact number of colored pencils I ordered was 69, so that makes Melanie Ann's guess of 72 the closest. Melanie Ann, please post in the comments how you'd like me to color the princess gown and I'll post it soon!