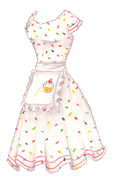 Click for larger version; click for the list of dolls.
Vegan Cupcakes Take Over The World claims in the introduction that "a surefire way to get people to look at your blog is by posting pictures of cupcakes."
I wonder if paperdolls dressed in totally over-the-top fifties-style cupcake dresses and aprons might be similar enough to get some of the benefits?
(I must confess, that originally I was hoping to go for a cupcake-as-dress look. I had some wacky sketches of icing boas and cupcake wrappers done up as full skirts and frilly sleeves. In the end I couldn't quite pull it off.)
I don't eat cupcakes as often as I might like, but I do like flipping through my copy of VCTOTW and following Cupcakes Take The Cake… they're just so cute, and often so inventive. I like the way this turned out, with the little cupcake pocket on the apron, although I almost scrapped the sketch because the skirt wasn't quite poofy enough… maybe next time.
It's probably really a stretch to tag this 'historical,' isn't it?