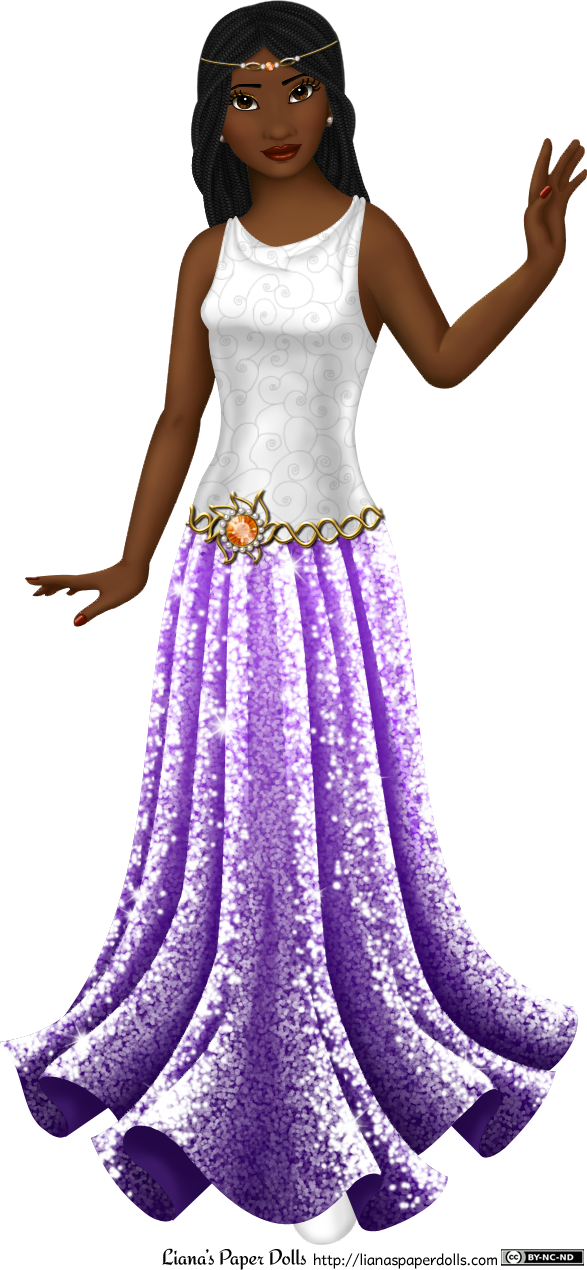 Please welcome my second paper doll in the new series, Leyla! Her name was chosen from a set of six names I picked out, and as with Mia's name it was close for a while there but Leyla was the winner. I hope you like her! I'm very happy with her, I had a good time drawing her hair.
With my previous sets of dolls I've only made two for each set, but my intention is to keep going and do a new one every month until I have enough dolls to put together a soccer team. Since Leyla has been released on time, I feel very confident that I will be able to pull that off. Their outfits aren't going to get any more varied, I'm afraid, because the dolls themselves are rather a lot of work. I'm happy with the series dress theme, though. In my imagination, Mia, Leyla and the dolls to come after are the new goddesses of my paperdollverse, and so I thought to myself, what would this little pantheon like to wear? The answer, apparently, is "lots of sparkles."
Speaking of goddesses, the contest on Twitter is over, and the winner is Karen Martin! (Her favorite Greek goddess, by the way, is Athena.) You will see how she chose to color an ancient Greek outfit next Friday. As I mentioned before, I'm going to start doing the contests on the blog after this, so if you would like to take part next time, just keep reading!
The Oscars are on March 2nd, and that means Oscar dresses! Twice before, I've "livedolled" the Oscars – that is, drawn some dresses straight from the red carpet. I did this in 2009, drawing three gowns, and in 2011, drawing an amazing four gowns. I'm ready to do it again this year, but with a twist. I'll sketch the gowns I like on my iPad and post them here as I draw them. At the end, I'll put up a poll for which one you all like best, then I'll make the winner into a proper dress. Also, there'll be a special Oscars contest! The red carpet starts at 7 PM EST, 4 PM Pacific. Join me and we'll enjoy all those great gowns together!
As always, you can follow me on Facebook, Twitter and Pinterest for update notifications, links to things I find interesting and many, many fashion plates. If you enjoy my work, I'd also appreciate your support through Patreon.
In preparation for our Academy Awards party, let's have a poll…