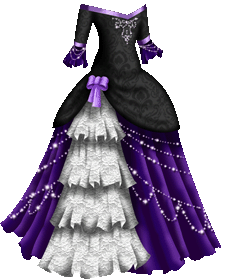 Click for larger version (PNG); click for PDF version. Click here for the list of dolls.
Another masquerade gown! I must confess I'm getting a little bored of recoloring but I'm learning a great deal. I think, though, that I'll start doing new things next week. I'll try for a Monday, Wednesday and Friday schedule. The lace and the sparklies are from Obsidian Dawn and the damask pattern is from sofi01.
The contest I had going has already been won… Sarah, tell me how you'd like me to color this one, please!