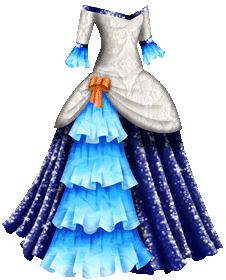 Click for larger version (PNG); click for PDF version. Click here for the list of dolls.
When I selected this gown and started working on it, the purple sparkly dress was ahead in the poll, so I thought, sure, I can take a hint. This week is now Sparkle Week, because I'd like to practice making things sparkle. I really like how the skirt turned out on this one, but hey, there's always room for improvement. It is all a matter of getting the brushes right… I have a lot of sparkly brushes to play with thanks to Obsidian Dawn, and the lace pattern is also one of theirs.
Let's have a new contest!
Milo has received so many beautiful, handmade blankets from family members and friends that I probably could have started a baby blanket shop. Recently, though, one of them has become the favorite blankie. He likes to have it in his crib with him at night, and he wraps it around his shoulders and walks around with it like he's the emperor of the house. (Which he is, but…) It has three colors in it. What are those three colors? The winner gets to tell me how to color this week's gown!
Hint: I'm not being picky about color names. It's not like you have to say royal blue, crimson and lemon yellow (for example), I just want the basic color names here.
One entry per new post per day, please. Update: Sarah guessed. I thought that would take longer than it did! It's white, blue and green.
Also, I've set up a Facebook fan page and a separate Twitter account. I'll use both of these for announcing new posts, but also I'll try to put up some new content, like special recolored dresses and contests, and I'll also post some links to paperdoll and fashion related things I like. So please like my page or follow me, depending on your choice of social media!