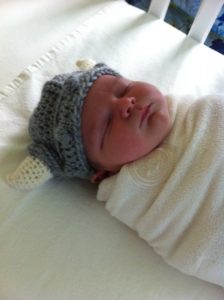 Our son Milo was born on April 28, 2012! Both of us are healthy and happy, and everything's been going very well. Brian and I are having so much fun with him, and my family, our doula Jessie, our doctor and all of our friends have been supportive and loving. (If you're in the Tacoma, Olympia or Seattle area and looking for a doula, I highly recommend Jessie Keating, who was absolutely wonderful. She greatly reduced my anxiety about childbirth, was supportive of me and my husband in every possible way and was invaluable while I was in labor.) Thanks to everyone who's asked about how things have been going… and of course, thanks to everyone who's still reading, considering I haven't posted since December!
There's your update on the flesh and blood humans behind this website, but what about the paper ones you come here for? Obviously I have my hands a little full right now, but I've had paperdoll plans on my mind lately. (I have rather a lot of downtime in which I can think about such things while this little guy is feeding, although what with all the sleep deprivation my thoughts aren't quite as coherent as usual.) I'd like to start drawing again, and put some of my earlier plans and ideas into action, particularly the customizable doll. I expect there won't be any action on that front for a number of months, but it is on my mind. I always return to paperdolls in the end, it seems!
If there's any paper doll related news, it will be here, though I can't tell you exactly when that might be. To keep tabs on me in general, you can always see what I'm up to on Twitter!