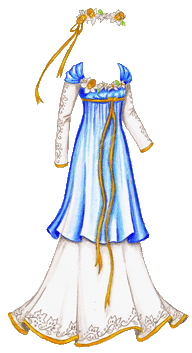 Click for larger version (PNG); click for PDF version. Click here for the list of dolls.
Today, we have a March birthday gown; the birthstone is aquamarine and the birth flower is the daffodil. I always like doing these, but I have an uncomfortable feeling that in all these months I've been drawing them, I've skipped a couple of months entirely… I had better make a chart sometime.
"What do you think you'll do today?" my husband asked me.
"Oh, a March paperdoll."
"Like the Ides of March?"
"Well, not that kind of March."
Please do refrain from getting backstabbed in this dress, the blue is far too nice to spoil!
I think I have pretty much recovered from being so horribly sick, so I'll do my best to get back on the paperdoll schedule! (True, today's is a little late, but where I am, it's 10:30. That's not even approaching midnight! Plenty of time.)