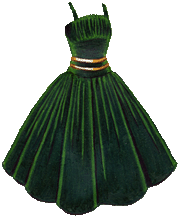 Click for larger version (PNG); click for PDF version. Click here for the list of dolls.
When my mom told me how impressed she was with the burgundy velvet on the Good Queen's gown, I felt like such a fraud. It's basically two colors applied thickly and not overlapping, with just a touch of black and a bit of the colorless blender – pretty easy, honestly. In any case, it was the first time I'd tried that effect, and it was such fun that I thought I'd give it another shot, so I ended up with this party dress. There is not much to it other than an excuse for me to play with this technique!
Prismacolors used: Goldenrod, Bronze, Cream, Dark Umber, Dark Green, Apple Green and Black – however, apple green felt too bright compared to the dark green, and the colors of dress you see were changed in Photoshop.